Some more fleamarket finds. As usual the guy selling them didn't have a clue what they were. He had a basket with probably around 200 discs but unfortunately 90% were VCDs of mainstream movies (some still sealed even). All the movies seemed to be in good condition but the rest was hit and miss. Some loose discs full of scratches and even stickers (!?) [Inca and Who Shot Johnny Rock, Video Speedway] or empty cases [Power Hitter, De Vliegende Hollander]. I offered 50 euro for the whole box but the guy refused so I just took everything that was not a movie except for the loose discs. The empty cases I got for free.
Also took some movies I didn't have yet and more or less fit in my DVD collection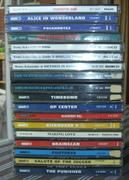 So nothing special, still impressive to find a box with that many CD-i related stuff at a local fleamarket
I also got this PIN from ebay, anyone seen it before?