This morning I went to a flea market and I noticed the CD-i logo in a box of random audio cds. I went through the entire box and found a manual for Backgammon, a "Caesars World of Boxing" disc and some kind of boring professional thing called "De Gouden Brief 1993 op CD-i". Then I noticed a CD-r disc with a big sticker saying Lost Boys Interactive. Funnily enough, a few months ago I bought a few CD-i games and movies from the same seller (some old Turkish ? woman who most likely doesn't even know what CD-i is) and some of the movies had small stickers saying Lost Boys Interactive. Since it was only 1 euro I took it home hoping to found something cool CD-i gaming related.
This is the cover. It's a big sticker attached to the Philips CD-r insert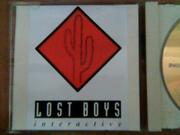 The disc itself has the following written on it: V.M.V.M. + a little heart.
There is also a manually written note inside saying the disc can be watched in a bunch of stores like Videoland, Freerecordshop, etc. It's signed with the name Chilus (I think)
I was happy to find it was an actual CD-i disc (size is 120MB). Here's the disc layout
I eagerly started the disc and got the following:
Title screen
Then a selection screen with 4 options. Options 1-3 start a slideshow with a few holiday pictures of some guy and girl. In the background we hear the songs "Dr Alban - Sing Hallelujah" and "Ace of Base - She Leads A Lonely Life" which, until today, I had successfully blocked from my memory
The 4th option DB gives us this screen which reads: Sweet Marije, I would love to go to the DB with you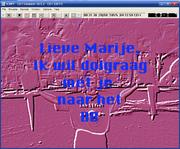 So yeah, not exactly what I was hoping for. It seems to be something some Lost Boys employee made for his girlfriend. Anyone know what VMVM or DB means?